T A M B I

This space is a collaboration between a Japanese restaurant "SHINKA"and a gallery "TAMBI".
The interior was designed by Taijiro Ito.
It is composed of fittings that make use of Japanese traditional beauty, and finished with textured materials.
We would like to display and sell selected works, mainly Japanese contemporary ceramics. 
 It is a work carefully selected by the owner of a modern ceramics specialty gallery.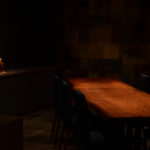 We also accept custom made closets and cabinets shown in the TAMBI.
It is a unique and artistic handmade furniture with a sense of texture.
We respond to your request regarding the size and color of the product.
I hope you have a good time.
Best regards,
Taijiro ITO

The nature photos on this website were taken by Taijiro Ito.

TAMBI
2-19-8 2F Shinkawa Chuo-ku Tokyo 104-0033
You can come quickly by taxi from Ginza or Tokyo station.
We would like to guide you if you want to visit TAMBI.
Thank you.